How to earn money Online with Meesho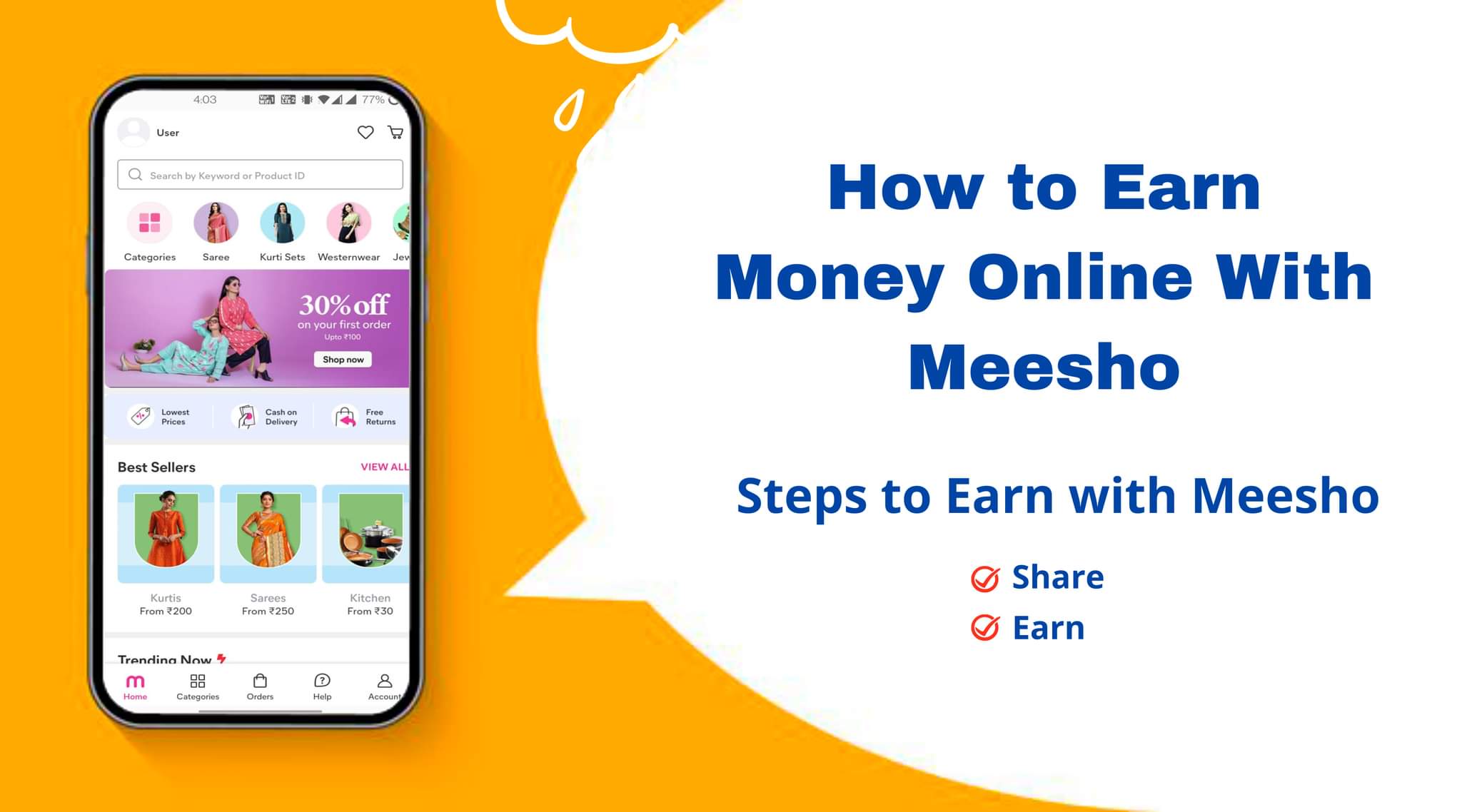 Post By Admin
How to earn money Online with Meesho
You can earn with Meesho by selling fashion and lifestyle products on Whatsapp and Facebook. The moment you open the app / you see a huge collection of quality products sourced from the best suppliers in business. Select a product that your network would like and share it individually with your Whatsapp contacts or on your Whatsapp groups. You can also share the products on your Facebook wall, Facebook page or Facebook groups. After you share products, you will start receiving enquiries. You can add your margin on top of the product charges and shipping charges, and share the final price with your customer. When your customer confirms the order, place the order on the app. You will receive all notifications regarding the status of your order. Your customer will receive the order in the next 2-3 working days.
What is Meesho?
Meesho is India's largest and most trusted marketplace for Resellers, who sell products online through WhatsApp and Facebook. Trusted by over 50,000 Resellers, Meesho helps them grow their online business by providing,
Hit products at Lowest prices
Best Quality with Easy Return policy
Doorstep Delivery all over India
Online & COD Payment Options
In last 2 years since inception, Meesho has helped thousands of people earn a livelihood by making it easier for them to start and grow their online Reselling business. Learn how you can get started. Meesho is headquartered in Bangalore.
How will I get my first order?
These 5 tips have helped Resellers kick-start their business:
Tips 1 : Start with Family & Friends Family and friends are always supportive when you start something new.Tell them that you have started a new business and would love to get their feedback.When you share the products with them, many will purchase the products and share their feedback.
Tips 2 : Share Meesho's Hit Catalog Begin with Meesho's "Popular & Must Share" Collection. These are the most trending catalogs that have worked for every successful Reseller. Your customers will totally love it!
Tips 3 : Emphasise on COD & Easy Return Building trust online is tricky. You would notice how people hesitate to pay online upfront. To build trust with your potential customer, offer them Cash on Delivery (COD). This way, they only pay once they have received the product. In case your customer is not satisfied with the product, offer them the easy returns or exchange option. Rest assured, we offer hassle free return & exchange.
Tips 4 : Create the URGENCY FACTOR Use phrases like, "I have only 2 of these left" or "I can offer 50% OFF till tonight". The purpose is to ensure that your customers see what they like and creating an urgency will help them determine their purchase.
Tips 5 : The Secret Recipe Initially, focus on building a loyal customer base. Begin with making low profits and gradually increase it. This has worked for every successful Reseller. Initially, you can earn through Meesho's Weekly Bonus Program.
Customer Support
To Know more information about meesho App the customer Support
Calling Number : 080-61799600
Email-ID : [email protected]
To Download the App : Download Now
0 Comments